Anaglyph Red/Cyan 3D-astronomical still motion movies
Click images to see the movie
If you have a slow connection, please, hit the "Pause" button in the player and let the movie load before playing it.
NOTE! You'll need a pair of Red/Cyan eyeglasses to see the movie as a 3D, Red lens goes to the Left eye.
To see videos in full HD, 1080p, go to YouTube by clicking the movie window.
At lower Right corner, select HD 1080p and double click the movie window to see it in full screen.
Let the movie load first to have a smooth experience.
3 day old Moon
Full Moon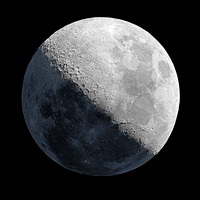 Half a Moon with Earth shine
Anaglyph Red/Cyan 3D-movies of the Moon